FAU'S SPORT MANAGEMENT MBA RANKED NO. 11 WORLDWIDE, PROGRAM MAINTAINS MOMENTUM AFTER RIORDAN'S UNTIMELY PASSING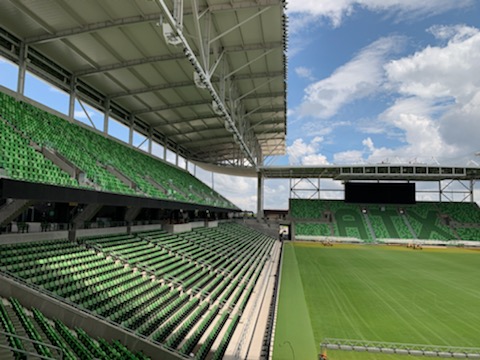 Florida Atlantic University's MBA in Sport Management program improved to No. 11 worldwide for 2022 from No. 19 last year, according to SportBusiness, a London-based global intelligence service. Among U.S. schools, FAU jumped to No. 10 from 14.
SportBusiness said the 11th annual rankings are based on two surveys, one by course officials and the other by alumni who graduated in 2019. In compiling the rankings, the company also worked with a seven-person advisory board.
"We are proud to have another top world ranking for our MBA in Sport Management program," said Daniel Cornely, FAU's program director. "The 2022 rankings represent the hard work of the 2019 class. It shows dedication to their professional growth within the sports industry. It is also a testament to our outstanding alumni, faculty, staff and corporate partners."
FAU's sport management program never has finished lower than No. 30 in SportBusiness' world rankings.
"We are delighted with the continued recognition of our MBA Sport Management program," said Daniel Gropper, Ph.D., dean of FAU's College of Business. "The program that Dr. James Riordan built prepares students for real-world challenges in a highly competitive industry, and we look forward to its continued success."
The 2022 SportBusiness ranking follows the 2022 U.S. News & World Report ranking of Best Online MBA Programs Offering Sports Business. FAU's Online MBA Sport Management program is listed as No. 2 in the U.S. and No. 1 in the U.S. among public universities offering a Sport Business Online MBA.
The FAU program was founded in 2000 by Riordan, who passed away earlier this year. He had more than 25 years of experience in sport, event, facility and entertainment management, regularly organizing presentations for the MBA Sport students, which attracted athletic celebrities, coaches and executives.
The College of Business has established the Dr. Jim Riordan Student Support Endowment, to honor his legacy and how he helped his students in many ways, including supporting them financially with his own money. This fund will assist students in the MBA sport program, and donations can be made here.