MARQUETTE'S NATIONAL SPORTS LAW INSTITUTE'S 33RD ANNUAL FALL CONFERENCE, OCT. 14, TO DISCUSS TOPICS AROUND 50TH ANNIVERSARY OF TITLE IX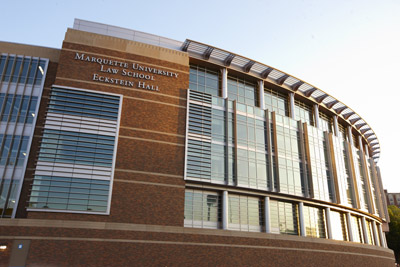 Marquette University Law School's National Sports Law Institute will host its 33rd annual Sports Law Fall Conference, which will focus on a wide range of topics connected to the 50th anniversary of Title IX, on Friday, Oct. 14, beginning at 9 a.m. at the Lubar Center in Eckstein Hall, 1215 W. Michigan St.
The conference will feature panel discussions on topics of transgender participation, starting a women's sports program, the status of esports and motorsports under Title IX, college coaching issues, substantial proportionality and cutting opportunities, addressing allegations of sexual abuse, and current issues in international sports including the Court of Arbitration for Sport's review of female skater eligibility at the Beijing Olympics. The conference will end with a celebration of 50 years of sports law in honor of National Sports Law Institute founding director Martin Greenberg who is amid his 50th year of teaching this fall.
Event registration and the complete list of scheduled speakers can be found on the conference web page.
Marquette Law School "seeks to advance civil discourse about law and public policy matters through public programming such as 'On the Issues' conversations with newsmakers, public lectures by leading scholars, conferences on issues of public significance, the Marquette Law School Poll, and the work of its Lubar Center for Public Policy Research and Civic Education.
"The Law School's National Sports Law Institute strives to be the leading national educational and research institute for the study of legal, ethical and business issues affecting amateur and professional sports from both an academic and practical perspective. Its primary emphasis is to provide educational opportunities for law students. The NSLI also provides a national forum for discussion and thoughtful consideration of American and international sports issues and encourages input by persons and organizations with a wide range of viewpoints. The NSLI seeks to promote a legal environment in which sports at all levels of competition will flourish. In an effort to achieve these goals, the NSLI sponsors high-quality national conferences and symposia and promotes knowledge through publication of thoughtful scholarship in the Marquette Sports Law Review. It also serves as a resource for the media and public."