Gabelli School of Business Announces Launch of Sports Business Initiative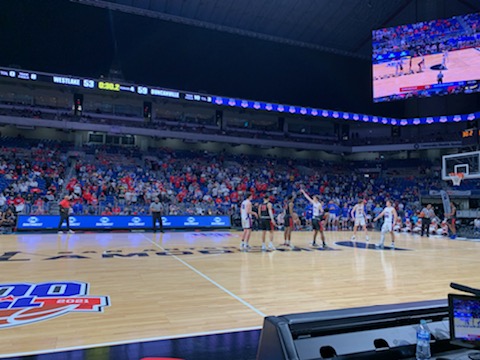 Fordham University's Gabelli School of Business has launched the Gabelli Sports Business Initiative to explore, debate and propose solutions to the many important issues involving the sports industry.
The Initiative, to be led by Mark Conrad, Associate Professor of Law and Ethics and a longtime writer and observer of the industry, will bring together experts in the areas of professional, collegiate, amateur and international sports for a series of symposia, podcasts and lectures examining the many cutting-edge issues affecting sports today.
Geared toward academics and non-academics, students, alumni and the general public, the Initiative hopes to be the "go-to" place for sports business issues not only in the New York – Metropolitan Area, but also in the national and international spheres. To guarantee maximum exposure, events will initially be remote, so that our guests and our interested audiences from all over the world can participate. The Initiative will include podcasts, symposia for academic and public audiences will be uploaded and streamed.
Among the topics covered are:
•           Diversity, Equity and Inclusion
•           Human rights and political issues and sport – domestic and international
•           The professionalization of college sports
•           The effects on legalized betting on the sports landscape
•           Gender and sports
•           New technologies and monetization of sports
•           The role of government in ensuing governance and transparency
"Gabelli's new Sports Business Initiative will tackle timely and difficult issues that make up the ever-changing realm of the business of sports. Not because they are easy, but because they are hard," Conrad said. "Our goal is to gather the best and the brightest from academia, industry and the public sector, debate the issues and let our viewers and listeners find the answers.
"This Initiative seeks open dialogue – we look for participants to address various views on a particular issue for examination, debate and analysis. When all is said and done, the Gabelli Sports Business Initiative will be the 'Go To' Place for Discussion of the Business of Sports," Conrad noted.
In the coming academic year, the Initiative plans to discuss topics like "Sports at a Time of War" – the Ukraine War and the Effect on International Sports; "Diversity in the Sports Space – What Can be Done, What Should be done?" and "Legalized Sports Betting – The Money, the Risks and the Public Health Issues."
The Gabelli Sports Business Initiative will reach out to many sports stakeholders for ideas, comments and proposals in this rapidly changing world.
For more information: Contact Mark Conrad 212-636-7975 (landline) or 917-865-4830 (cell); or by e-mail to gsbsportsbusiness@fordham.edu.