'Testing the Waters' – the NCAA Issues a Memo About Best Practices for DI Basketball Players Seeking a Career in the NBA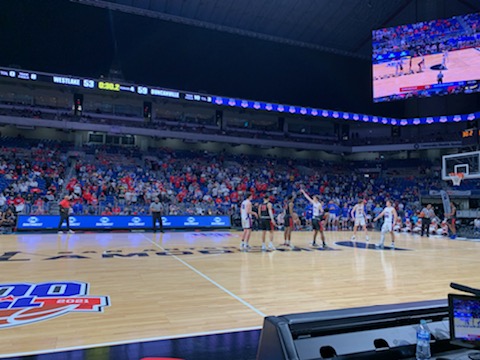 (Editor's Note: The following has been republished from the archives of Sports Litigation Alert. The Alert, which is available for subscriptions to libraries, professors, students, teams, and law firms, features the largest sports law specific – database in the country.)
By Michael A. Ross, MS
In a year unlike any other and dominated by uniqueness due to the Covid-19 pandemic, all NCAA athletes have to consider an especially unique opportunity that has never been considered or offered before as a whole: what to do after a year where no eligibility was lost across the board.
For top tier talent, the decision to remain in college or test the waters of the professional draft is a yearly occurrence, but for those who are on the fringe of being selected or being passed over by those in the professional ranks, such a decision is magnified. The following article addresses a best practices memorandum recently issued by the NCAA to NCAA DI athletic directors, head coaches and various other pertinent stakeholders to help guide their athletes who are considering making the jump from intercollegiate play to the professional realm.
For those on the aforementioned fringe, the memorandum serves as a guideline which will allow them to test the waters without completely forgoing their eligibility and amateurism status required by the NCAA. If they discover such a jump into the professional ranks is not in their best interest at this given time and they seek to return to the collegiate ranks, the memorandum highlights how this may be a better option.
The analysis follows:
BEST PRACTICES
As previously stated, this memorandum serves as a guideline for DI men's basketball players and their constituents to successfully navigate the NBA draft process while not completely forgoing their eligibility during the process. Nine pertinent rules are distinctly listed for athletes, their families, coaches, and all others potentially involved with such a decision to consider and abide by if they wish to avoid losing the athlete's NCAA eligibility while testing the waters. The nine rules for losing eligibility are as follows:
He enters the NBA Draft or hires an NCAA-certified agent prior to or without requesting an NBA Undergraduate Advisory Committee evaluation from the NBA.
He agrees orally or in writing to be represented by any individual other than an NCAA-certified agent.
He agrees orally or in writing to be represented by an NCAA-certified agent outside of the permissible timeframe allowed by NCAA legislation.
He accepts any benefits from an individual other than an NCAA-certified agent.
He accepts any benefits from an NCAA-certified agent that are not expressly permitted by NCAA legislation or outside of the permissible timeframe allowed by NCAA legislation.
He participates in a tryout with an NBA team that lasts longer than 48-hours (exception for the NBA Draft Combine and the G League Elite Camp held in connection with the Combine), which he has not personally financed, or his NCAA-certified agent has not financed.
He misses class to participate in a tryout, including travel to and from the tryout (exception for the NBA Draft Combine and G League Elite Camp held in connection with the Combine).
He enters the NBA Draft AND does not take the appropriate steps to withdraw and declare his intention to resume intercollegiate participation.
He enters the NBA Draft AND is drafted by a professional team.
As inferred throughout the nine rules, there are key dates that draft hopefuls must keep in mind and abide by to maintain their eligibility while also gaging how they may fair in the current year's draft class. At the time of this memorandum's release, the following dates have been established for athletes to abide by.
It is understood via NCAA rules and legislation that the first date an athlete can request an NBA Undergraduate Advisory Committee evaluation is no earlier than the end of their team's playing season which also includes any postseason games the team participates in. Once the evaluation has been properly requested, the athlete may file additional and separate paperwork to declare for the Draft and also be permitted to sign a permissible agreement with an NCAA-certified agent. May 31, 2021 has been established as the deadline for those wishing to partake in the NBA early entry route. At the time of this memorandum's release, dates and additional information pertaining to the G League Elite Camp have not been finalized due to the evolving public health conditions (Covid protocols) and will be released at a later date. Currently, the NBA Draft Combine is scheduled to take place from June 21 through June 27, 2021. The NCAA Early Entry withdrawal deadline has been set for July 7, 2021. Shortly after, the NBA Early Entry withdrawal deadline has been established on July 19, 2021. The NBA Draft is scheduled to be conducted on July 29, 2021.
A key understanding that all relevant stakeholders must understand is who is considered to be an NCAA-certified agent. As provided by the NCAA and detailed within the memorandum, an NCAA-certified agent is any individual who solicits a student-athlete to enter into an agency contract for purposes of obtaining employment with a professional sports team or organization as a professional athlete. It is mandated that any and all NCAA-certified agents maintain an active certification per the policies and procedures established within the NCAA agent-certification program. The memorandum goes so far as to provide a working web address that lists all NCAA-certified agents for athletes and various other stakeholders to access and examine.
Once the student-athletes have filled out the proper documentation (requested the NBA Undergraduate Advisory Committee evaluation) they may safely enter into an agreement with the NCAA-certified agent. The aforementioned representation may not officially take part until there has been a signed written agreement between the parties. This agreement must be terminated if the student-athletes do not sign a professional contract before they can be readmitted and reenrolled full time in an intercollegiate academic institution to continue their athletic endeavors. Once an agent has been permissibly acquired, said agent may begin providing representation service with the intent to obtain employment for their athlete within a professional sports team or organization as a professional athlete. It is also important to know that the NCAA does permit certified agents to provide student-athletes and their family members with approved and limited expenses that relate to selecting an agent prior to signing a contractual agreement with said agent. Exceptions include meals and transportation to meet with the student-athlete. One caveat to this that should be noted is the agent must travel to the student's locale (the student-athlete's school area or surrounding home area) for these exceptions to be considered permissible. Once the agreement has been signed and there is a contractual component present, NCAA- certified agents are permitted to provide expenses to student-athletes and family member as they apply to the aforementioned parties meeting with the agent or professional teams/organizations. For reference purposes the memorandum does specify who constitutes as a family member as it is defined in NCAA Bylaw 12.02.4 which states a family member is an individual with any of the following relationships to a student-athlete: spouse, parent or legal guardian, child, sibling, grandparent, domestic partner, or any individual whose close association with the enrolled student-athlete is the practical equivalent of a family relationship. It should also be noted that a student-athlete is only required to compensate the agent for representation services if said agent charges other clients for the same services.
Details concerning one's ability to enter into the NBA Draft and his ability to return to intercollegiate play without penalty is also expressed within this memorandum. The four criteria that must be considered for this situation to be deemed permissible are as follows: 1) He requests an evaluation from the NBA's Undergraduate Advisory Committee before entering the draft. 2) He withdraws his name from the NBA Draft no later than 10 days after the conclusion of the NBA Draft Combine. 3) He declares his intention to resume intercollegiate participation no later than 10 days after the conclusion of the NBA Draft Combine in which said declaration must be provided in writing to his athletic director. 4) He is not drafted by any team. Furthering this notion, details pertaining to permissible actions concerning workouts and tryouts for professional teams are also addressed. College coaches are allowed to work out student-athletes to better prepare them for professional tryouts, but the time allotted for such actions is limited, similar to the NCAA regulations established for preseason training time allowances. Specifically, these training sessions are limited to a maximum of four hours per day and no more than 20 hours per week. It is also permissible that a student-athlete's collegiate coach may assist in the logistical planning necessary to organize a tryout on or off campus for a professional organization, but they may not be the director or supervise said tryout. Additional details state that an NBA team, their family, the NCAA-certified agent, or the student-athletes themselves can pay the necessary expenses needed to participate in a tryout or workout with a professional team/organization. It is stated that a student-athlete may receive actual or necessary expenses from the NBA team in conjunction with one 48-hour tryout per team per year. Individuals outside the approved and aforementioned parties are not permitted to pay any expenses associated with a tryout or workout for a professional team. Another caveat that must be considered is that the student-athlete is only allowed such a tryout if it does not result in their missing an academic class. It is also expressed in clear terms that no booster or agent is permitted to aid in securing a loan for such actions if need be.
The memorandum summarizes its prioritized information with contact information specific to who should be contacted for additional questions about NCAA specific rules and additional information related to NBA rules and processes. A section referred to as helpful tips is also provided which encourages the student-athlete to keep both his current coach and compliance coordinator informed of all ongoings during this process. It insists that all activities should be coordinated by the student-athlete in conjunction with his head coach/athletics department or his NCAA-certified agent. During this process, it is encouraged that the student-athlete remain enrolled in school and complete courses while testing the waters. A final piece of advice reinforces the notion that if a student-athlete enters into an agreement with a non-NCAA-certified agent, his academic institution may revoke or cancel his scholarship and/or jeopardize his eligibility during the aforementioned process.
CONCLUSION
The purpose of this memorandum issued by the NCAA to DI men's basketball players interested in testing the waters of the NBA Draft is to protect and inform them of the potential alternatives that may arise should they not be selected by an NBA team or organization. With the NCAA's stance on their amateurism clause being considered extremely strict, understanding and abiding by such legislation is crucial for those seeking greener pastures but not quite a reality for them at this given point. This document also provides additional understanding towards the required and authorized paperwork that must be completed to successfully test these waters without completely foregoing one's collegiate eligibility should they decide to return to their given programs. With NCAA-certified agents being a relatively new phenomenon within the collegiate realm, this memorandum serves as a guideline for many to have a clear and straightforward understanding about what is considered permissible and how the involvement with them should be conducted throughout this process. Going to such an extent to provide a link listing all NCAA-certified agents serves as an expression of the NCAA's due diligence towards helping these specific athletes explore their options without jeopardizing their collegiate opportunities at this time. Extending from a season unlike any other in memory, any guidance and additional information would certainly be of value and appreciated by those who have the opportunity or wish to test their mettle into the professional ranks aligned within their respective athletic career and journey.
References
NCAA. (2021, April) Information Regarding the 2021 National Basketball Association Draft and Combine, Agents and Workouts [Memorandum]. 2021ENF_NBAMemo.pdf
 Michael A. Ross is an Assistant Professor of Sport Management at Shorter University and a PhD student at Troy University specializing in research related to youth sport studies, leadership, social media policies and procedures within athletics and participation motivations in sport and recreation.