Feldman to Hold Newly-Endowed Sher Garner Professorship in Sports Law, Nation's First Such Professorship Dedicated to Sports Law
Tulane University's nationally recognized Sports Law Program will now be led by the nation's first fully endowed professorship dedicated to sports law – Professor Gabe Feldman.
Alumni and longtime supporters Leopold and Karen Sher and James and Tracie Garner have endowed the Sher Garner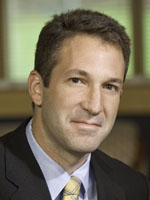 Professorship in Sports Law.  The professorship will be held by Professor Feldman, the director of the Program and an internationally recognized leader in the field.  It is the largest gift to Tulane's Sports Law program since its founding more than 25 years ago.
"Tulane is recognized around the world for its leadership in sports law," said Dean David Meyer. "We're enormously grateful to Lee and Karen, Jim and Tracie, and the Sher Garner law firm for their visionary support of our faculty and this important program."
Tulane Law School became the first in the country to offer a specialized certificate in sports law in 1993 and remains a world leader in the field.
Sports law spans a range of legal fields, including antitrust, contracts, intellectual property, labor, and torts, as well as associated legal skills of negotiation, arbitration and litigation, all focused on their distinctive application to amateur and professional athletics.
Tulane's Sports Law program is a significant draw for students from across the country.  In addition to course work, students are active in the Tulane Sports Law Society and help run annual negotiation and arbitration competitions affiliated with the National Football League, National Basketball Association, Major League Baseball.  Students also organize and host Tulane's annual Mardi Gras Moot Court competition, which draws competitors from law schools across the country.  Students also edit and publish Tulane's sports law newsletter and The Sports Lawyers Journal.
Alumni of Tulane's Sports Law program are employed by the NFL and Major League Baseball, the NBA, NCAA, U.S. Tennis Association and by such organizations as the Houston Astros, Atlanta Braves, Minnesota Vikings, San Antonio Spurs, Brooklyn Nets, New York Jets, Chicago Bears, Washington Nationals, Miami Dolphins, ESPN, and other sports enterprises.
Leopold Sher (A&S '74, L'76) and James Garner (E '86, L'89) are the founders and co-managing partners of the New Orleans law firm Sher Garner Cahill Richter Klein & Hilbert, LLP.  Tracie Garner (UC'97) and  Karen Sher (NC '74, L '77), who practices law with Berrigan Litchfield, LLP, have been ardent supporters of law school programs.  Both couples have children who are alumni or current students at the law school as well and have a long history of  support for the school, including an endowed scholarship and gifts to support faculty research and engagement.