Utah's Highest Court Creates Its Own Version of a Contact Sports Exception
The Supreme Court of Utah took a novel approach to "exceptions to liability arising out of sports injuries" when it affirmed a lower court's decision to dismiss the claim of an injured basketball player who sued another basketball player whose actions led to his injury.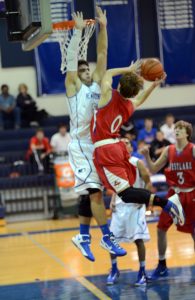 In essence, the high court adopted its own version of the contact sports exception, which is used in many other jurisdictions. It's version "does not turn on the defendant's state of mind, or … limited to just contact sports."
Instead, it established "a simpler framework" that hinges on the inherent nature of the sport and applies to all sports, even tennis, which the court cited as an example.
The incident leading to the lawsuit occurred in a basketball game when the plaintiff …
(This rest of this case summary as well as four others, nine articles and three briefs appear in the latest Sports Litigation Alert. The Table of contents can be seen below.)
Table of Contents
Case Summaries
Articles
News Briefs
Sports Litigation Alert is proud to offer an Expert Witness Directory at our website. SLA subscribers are entitled to be listed in that directory, please email your details to us and we will include you in the listing. Here is this issue's featured expert:
Peter A. Carfagna
Expertise: Sports Law, Sports Marketing, Sports Investments, Team and League Operations, Licensing and Sponsorship Agreements, Sports-Related Premises Liability, Intellectual Property, Risk Management, Corporate Formation
(216) 685-1439
Magis, LLC (Founder), Former Chief Legal Officer of IMG Group of Companies (1994-2005), Harvard Law School (Covington Burling Distinguished Visitor/Visiting Lecturer in Sports Law since 2006), Great Lakes Sports and Entertainment Law Academy — joint program between Cleveland-Marshall College of Law and Case Western Reserve School of Law (Co-Director since 2012)