Long Island Nets Receive NBA G League Award for Social Responsibility For 2020-21 Season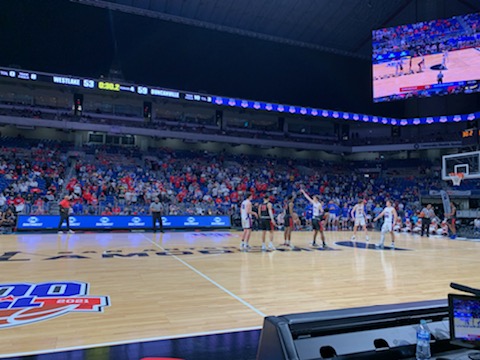 The Long Island Nets received the NBA G League Social Responsibility Award for their "Team Up for Unity" community program that aims to combat racism in high school sports on Long Island. The award recognizes excellence for team business and social responsibility, and the winner is chosen by a committee of league and team executives. This is the second consecutive year the Nets have won this award, following last year's recognition of the team's Next Gen Series, presented by the Hospital for Special Surgery (HSS), and its Commitment to Literacy on Long Island.
"Team Up for Unity" was launched during Black History Month in 2021, in partnership with National Grid, Section VIII in Nassau County and Section XI in Suffolk County, and with support from Minuteman Press of Levittown. Since February, the Nets have engaged with thousands of students in anti-racism work across the 200+ high schools in both Nassau and Suffolk Counties.
"The Long Island Nets are proud to continue to use our platform to improve the communities we live and work in," said Alton Byrd, Vice President of Growth Properties, BSE Global. "Our goal is to combat racism in all forms and ensure equality is achieved throughout Long Island. We are honored to be recognized by the league for the important anti-racism work we are doing with hopes of inspiring the next generation of leaders in society to be change agents."
Throughout the program, the Nets, Section VIII and Section XI provided high schools on Long Island access to information and helpful resources on diversity, equity and inclusion. These tools were shared with coaches, student-athletes, superintendents, athletic directors, principals, Boards of Education and other school administrators to help them identify and combat racism in both their schools and athletic programs.
Additionally, schools registered with the "Team Up for Unity" program participated in equality and anti-racism events and trainings, including virtual conversations on how to recognize and address racism in both school and sports. These panels were moderated by students on Long Island and keynote speakers included local business leaders, such as:
Jackie Wilson, Executive Director of Diversity and Inclusion at BSE Global
Joe Salamone, Executive Director at the Long Island Coalition Against Bullying
Keia Clarke, CEO of the New York Liberty
Dr. Richard Lapchick, Chair of DeVos Sport Business Management Program Director, Institute for Diversity and Ethics in Sports President, The Institute for Sport and Social Justice
Melanie Littlejohn, Vice President of Customer and Community New York State for National Grid
School administrators also joined quarterly panels hosted by Erase Racism, and anonymous surveys were distributed to student athletes at participating schools to highlight the frequency of students' experiences with racism and bias during Long Island high school sporting events. School administrators also hosted student-to-student conversations as a way for student athletes to share their views and experiences with racism and participating schools received posters and banners highlighting resources and organizations that students and employees can contact if they experience or witness racism or bias.
For more on "Team Up for Unity," visit https://longisland.gleague.nba.com/team-up-for-unity/.