Spurs Seeking Assistant General Counsel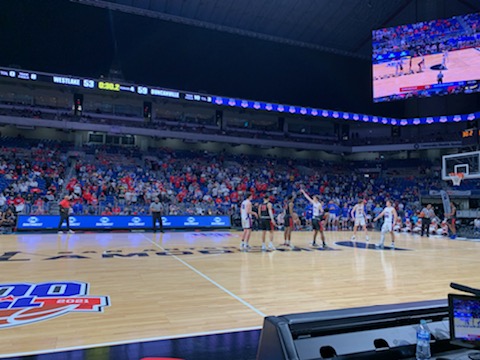 Spurs Sports & Entertainment (SS&E) is seeking an experienced attorney to join our family! The person in this role will manage corporate legal matters, examine, and draft business agreements, manage intellectual property, support corporate governance, company policy, human resources, and insurance matters. The ideal candidate will have a passion for the community we serve and lead by providing quality and trusted guidance drawing upon their experience. Additionally, this person will have sound legal knowledge, display a curious demeanor, take initiative, build collaborative relationships, and possess the ability to make prudent decisions. If you are an attorney who is solution oriented with outstanding people skills, we want to hear from you!
To apply visit https://www.linkedin.com/company/spurs-sports-&-entertainment/jobs/
In every position, employees are expected to: demonstrate alignment with SS&E's Core Values and Mission, collaborate with internal/external family members and demonstrate ongoing development.
Responsibilities
Provide departmental leadership that supports the legal team and encourage a collaborative integration across the organization to develop internal partnerships to serve the various organizational clients in accordance with SS&E's Core Values.
Lead organizational governance, risk management and compliance in a variety of areas such as required league obligations, statutory compliance, patent trademark protection, business acquisitions, labor, and employment law. This includes but is not limited to, the management and oversight of litigation, intellectual property issues, real property and the handling of legal issues associated with professional sports, facilities management and its related event business.
Participate, advocate, and contribute through community-based programs, boards and local government leadership that serve to increase community impact, advocate for public policy directly impacting the company, and demonstrate the positive influence SS&E can have on its community.
Support the organization in its existing public and private relationships with local government and partner in its state government affairs matters impacting company business.
Serve and provide legal advice to both departments and employees on a myriad of issues as needed.

Qualifications
Juris Doctorate degree from an accredited law school, certified to practice law in the state of Texas or another jurisdiction and in good standing.
6+ years' experience in a large law firm or as an in-house counsel required.
3+ years litigation, transactional, labor, or related experience; broad subject level expertise, preferred.
Experience working in real estate or public private partnerships law a plus.
Experience with legal research databases such as WestLaw, Lexis Advance, Nexis Uni, a plus
Strong proficiency and experience in a wide range of legal areas, working in support of human resources and marketing or public relations.
Strong verbal, written communication and collaboration skills required.
Bilingual; Spanish a plus
Proficient in Microsoft Office, Excel, Word, PowerPoint, and other digital literacy required.
Ability to prioritize multiple tasks and support multiple high-level positions.
Ability to demonstrate confidentiality, poise, tact, and diplomacy.
Strong teamwork and client service mindset required.
Can Stand/Sit/Walk for long periods of time.
Ability to travel/spend time in office 50% of time.
EEO Statement
SS&E is an Equal Opportunity Employer*

Nothing contained in this job description is intended to be a contract of employment, nor does any information contained herein represent a guarantee of employment for a specific duration. Your employment with SS&E is "at will", which means that either you or SS&E may terminate the relationship at any time. Essential functions listed above must be performed with or without accommodations.

We will ensure that individuals with disabilities are provided reasonable accommodation to participate in the job application or interview process, to perform essential job functions, and to receive other benefits and privileges of employment. Please contact us to request accommodation.