Rooting for Your College Team Is a Given…But Betting on Them Is a Whole Other Ballgame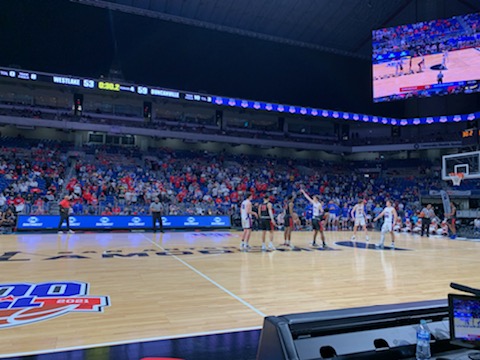 (The following piece was written by Law Professor Ellen M. Zavian, with research assistance from Brandon Martinez Gonzalez, GW Law 1L. Professor Zavian is the Editor in Chief of My Legal Bookie, a periodical produced by Hackney Publications.)
A friend of mine, Brandon, is a University of Virginia (UV) law student, and he is talking trash to his buddy, Allan, who attends the University of Maryland (UM). Although these teams are seeded close in the 2021 March Madness rankings, Brandon and Allen are eager to place a friendly wager on their alma maters.
Brandon logs into one of his favorite betting sites and attempts to place his bet. However, a pop up occurs and blocks his ability to place his bet, due to his GPS location being dinged at UV's campus. Conversely, Allan places his bet, from his UM dormitory, with ease, placing money on his Terps in seconds.
Brandon begins to explore what his options are, after all, his team is only two years removed from winning the National Championship and believes they can do it again. His search brings up many issues, but they all seem to fall upon the recently passed Virginia Sports Betting Law, which prohibits Virginia residents from betting on Virginia-based college games. It seems to stem from the legislature's concerns over protecting the college athlete from feeling any 'pressure' to alter a game's final score. Brandon understands the premise of this exclusion, to protect the local student-athletes from any temptation or pressure that might lead them to throw away their education, potential future in the pros, or even put them in jail for a cut of the pie, under the table, from some local bookie.
Virginia is not alone. Eleven out of the 26 states that allow sports betting have such explicit limitations on in-state college teams. For some states like Rhode Island, the laws follow the teams, prohibiting Rhode Island based fans from placing bets on Rhode Island college teams, even if those teams are not playing in the borders of the state (in other words, when the teams are playing an away game). Other states go further, to not allow sports betting on amateur level sports (such as high school competition and esports), elections, and even the Oscars!
Here is a brief listing on the 11 states:
Delaware: no betting on in-state colleges
Illinois: no Illinois teams or in-state events (Note: Northwestern hosts 2022 NCAA Men's Basketball Regional)
Montana: no wagering on the state's top two college football programs (Montana Grizzlies and Montana State Bobcats)
New Hampshire: limitations on in-state collegiate games in New Hampshire
New Jersey: limitations exist on in-state collegiate games and on all high school games, esports, and competitive video games
New York: limitations exist on in-state collegiate games and on all high school games, esports, and competitive video games
Oregon: no betting on in-state college teams
Rhode Island: no betting allowed on "any collegiate sports or athletic event that takes place in RI or a sports contest or athletic event in which any Rhode Island college team participates, regardless of where the event takes place"
Virginia: no betting allowed on local college and high school teams. However, any pro team in Virginia can offer sports betting themselves (The Washington Football Team, a number of NASCAR facilities)
Washington: sports betting only allowed at tribal casinos which means no betting on games played by educational institutions within state
Washington, D.C.: no bets on horse racing or college games taking place within District[1]
While some students might just call it quits in Virginia, it does not seem Brandon is one of them. Instead, he is driving to Washington, D.C., to place his bet, legally.
[1] https://ideagrowth.org/ for further information