Segal McCambridge Hires Carla Varriale-Barker, Establishes Practice Group Serving Sports, Recreation, Amusement, and Hospitality Industries
Segal McCambridge, a national litigation firm that added its first office in Florida last month, has announced that Carla Varriale-Barker has joined the firm as a shareholder in the New York office. She will lead a practice group focused on the sports, recreation, amusement, and hospitality industries.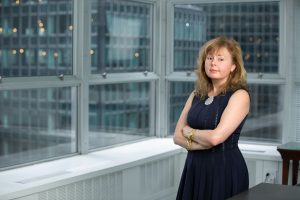 An experienced and creative litigator, Varriale-Barker has a portfolio of clients in the aforementioned industries, ranging from professional and amateur baseball teams to amusement parks to the U.S. Center for SafeSport (an organization established by Congress to address sexual abuse, bullying, and other misconduct) and in the U.S. Olympic and Paralympic movement.
"As a preeminent national litigation firm, we are always on the lookout for dynamic, trial-ready attorneys who share our commitment to client service," said Mark Crane, Segal McCambridge's Managing Shareholder. "Carla has a tremendous reputation as a litigator and counselor in New York, New Jersey and beyond, making her a great fit for Segal McCambridge as we continue to grow and diversify our New York and Jersey City offices and expand our broader East Coast presence, including our new Ft. Lauderdale office."
Varriale-Barker said she wanted to join a dynamic firm with a deep bench and a positive culture.
"Segal McCambridge gives my clients greater support in states, including New Jersey, where they are located," she said. "That's added value for my clients. When we started to discuss synergies across other practice areas, I knew that Segal McCambridge was dedicated to developing this practice. The fact that the firm also has a commitment to public service and diversity and inclusion was
also important to me, and made the decision to join the firm an easy one."
Crane suggested that the feeling was mutual.
"Carla's thriving practice overlaps with many of the liability defense areas for which Segal McCambridge is well known," he said.  "At the same time, her unique areas of expertise, such as her highly successful practice in the sports, recreation and amusement industries, present our firm with excellent opportunities for growth and diversification. We are excited to have Carla build her practice within our national platform."
Industry observers, such as Sports Facilities and the Law Editor in Chief Gil Fried said the move was win-win for both parties.
"What Segal McCambridge is getting in Carla is someone so unique that she can cover a broad range of legal topics with depth and clarity," said Fried, a sports law professor and chair of the sports management department at the University of New Haven. "She has unique expertise in defending venue liability cases (she has had notable success in spectator behavior cases), drafting enforceable waivers,  releases and indemnification agreements, and she has a genuine passion for the business side of the sports, recreation, and hospitality industries.
"With her new firm, I am confident she will be able to leverage her past experience, but more than that, her firm's attorneys and clients will realize how she is a great  asset, colleague, and mentor."
Varriale-Barker's Passion for the Field Extends to Academia
A graduate of Boston University and New York Law School, she has taught Sports Law and Ethics at Columbia University's Sports Management Program since 2008. Varriale-Barker has left an impression on Scott Rosner, Academic Director of the Sports Management Program at Columbia University and a Professor of Professional Practice.
"More than anything, what I have noticed is the passion that she brings to not only the subject matter, but teaching," said Professor Rosner. "She truly cares about her students in a way that you can't fake. She brings it every night to every class. when you are adjunct, and you have a day job, it's hard to always find that passion. That's not the case with Carla."
Varriale-Barker is an active member of professional organizations, including the Claims and Litigation Management Alliance (CLM)  and the International Amusement & Leisure Defense Association, Inc. (a non-profit association of lawyers and other professionals who are actively engaged in representing the interests of the amusement and leisure industries), and the Sports Lawyers Association. The American Bar Association has published her articles addressing gender equality and the role of sponsorship and mentorship in the legal profession.  She is frequently published in Professional Sports and the Law and Sports Facilities and the Law as well as many other sports law periodicals.
That industry participation has only enhanced her depth of knowledge in sports law, something Professor Rosner marvels at.
"She has become an expert in many areas of sports law," he said. "Some good examples of this would be legal issues in the ticketing industry and the amusement park business. They are two pretty different areas. And yet, because she practices sports law day in, day out and is a remarkably quick study, Carla has carved out a niche in those areas and many others."