Professor: California Decision May Force NCAA to Amend Rules on Income
Patrick Rishe is director of the sports business program at Olin Business School at Washington University, recently offered some insights on California governor Gavin Newsom's decision to sign a bill that will allow California athletes to earn money from the use of their names, images and likenesses.
The California passage of this bill will eventually generate a domino effect that will ultimately lead to the NCAA allowing student-athletes to receive compensation for their name, image, and likeness, according to Professor Rishe. He added:
"The California legislation is the first of many states who are either currently pursuing or planning to pursue similar legislation in those states.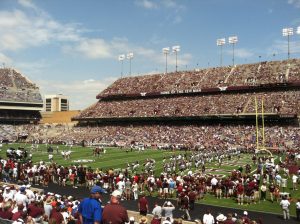 "That states are acting someone in concert on this matter shows the degree of universal disapproval of the NCAA's rules as it pertains to disallowing student-athletes to capitalize on their own marketability.
"The hope would be that if other states pass similar legislation in the next year, this will ultimately cause the NCAA to simply amend their rules in a manner that allows all student-athletes the ability to cash in on their NIL, and thus, essentially negating the need for individual states to have to pursue such legislation.
"There are parallels here with the current phenomenon of states considering whether to allow sports gambling.  One-by-one, slowly but surely, many states are pursuing this.  In this way, this domino effect with respect to the passage of sports gambling laws may become similar to the domino effect of states approving laws allowing student-athletes to cash in on their NIL.
"I suspect that if multiple states pass legislation similar to the new CA law, the NCAA will amend their rules to allow student-athletes to earn endorsement income."