National Sports Law Institute Invites Attorneys and Others in the Industry to Annual Fall Conference on October 18 at Marquette
The National Sports Law Institute (NSLI) will host its annual fall conference, entitled "Thirty Years of Sports Law" at Marquette University Law School on October 18.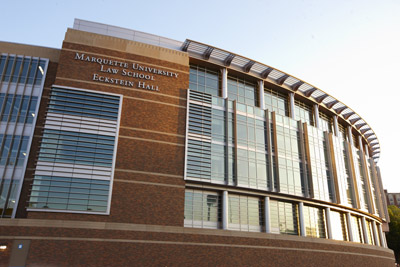 The conference will begin at 9 am and adjourn at approximately 5:30 pm, followed by a reception.  The conference will provide an overview of the development of the law over the past 30 years within high school, college, professional and international/Olympic sports, and will forecast future issues that will shape the legal landscape within sports.  At the end of the morning panels, the NSLI will present the 2019 Master of the Game Award to Dean Emeritus Frank DeGuire, the Law School's dean who was instrumental in the creation of the Institute back in 1989.  The conference will end with a 1-hour ethics presentation on the regulation of athlete agents.
The conference will feature individuals from every part of the sports industry including Dave Anderson, the Executive Director of the WIAA; Andrew Brandt, ESPN business and legal analyst and Executive Director at Villanova's Moorad Center for Sport Law; Stephanie Galvin, Associate General Counsel of the Miami Marlins; Shawn Eichorst, Executive Senior Associate Athletics Director, Internal Affairs, University of Texas; Jack Ford, CBS News correspondent for 60 Minutes Sports, former chief legal analyst with NBC News, and Master of Ceremonies for the NCAA; Andy Shiffman, Director of Basketball Operations, Priority Sports and Entertainment; and many others.
Complete details including registration information can be found online at https://www.law.marquette.edu/national-sports-law-institute/national-sports-law-institute-30th-anniversary-conference-30-years. Faculty interested in attending can do so at a discounted rate, and this rate can be discounted even further for groups of faculty, or groups of faculty and students from the same institution.