Sports Law Professor John Grady Receives Promotion as well as SRLA's Highest Award
Its been a great 2019 already for University of South Carolina Professor John Grady. First, the sports law instructor was promoted from associate professor to professor. Then, more recently, he received highest honor one can receive as a member of the Sports and Recreation Law Association (SRLA) at the organization's annual conference in Philadelphia.
Grady was honored with the Betty van der Smissen Leadership Award, which "recognizes leadership and vision in the study of legal aspects of sport and physical activity."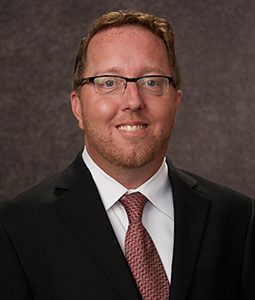 "When thinking of sport law, there are a handful of top scholars who come to mind. John is one of them," said Department of Sport and Entertainment Management Chair Matt Brown. "He actively engages and promotes the study of sport law and he actively gives back to the industry. He is very deserving of this award and we are fortunate to have him on our faculty."
Grady teaches graduate and undergraduate courses in the Department of Sport and Entertainment Management at South Carolina. His expertise is sought by scholars, industry leaders and media outlets worldwide on topics including ambush marketing, Rule 40, ADA compliance in sport and entertainment venues, and intellectual property protection in sport.
Grady's research has been published in prestigious outlets including the Journal of Legal Aspects of Sport, the Harvard Journal of Sports and Entertainment Law, and the Journal of Sport Management. He serves on the editorial boards for the Journal of Legal Aspects of Sport and the Journal of Global Sport Management. He is also a former president of SRLA.
Grady's mentorship has helped 10 students in his department earn Magellan Scholar awards for research projects in collaboration with a faculty member. One of those students accompanied him to do on-site research at the 2016 Olympics in Rio de Janeiro on athlete sponsorship and ambush marketing.
"Professor Grady continues to excel as a researcher, teacher and mentor to our students," said Haemoon Oh, dean of South Carolina's College of Hospitality, Retail and Sport Management. "We're proud to have him on our faculty, and he plays a big role in the continued recognition of our sport and entertainment management program as one of the best in the world."
Grady is a past winner of the Mortar Board Honor Society Excellence in Teaching Award, Ada B. Thomas Outstanding Faculty Advisor of the Year Award, the Outstanding Advocate for First-Year Students Award and the Michael J. Mungo Undergraduate Teaching Award, the university's highest teaching honor.