Feldman to Discuss College Athletes' Amateurism at Knight Commission
Tulane Law Professor Gabe Feldman was among those sports law experts who shared his legal expertise before the Knight Commission on Intercollegiate Athletics May 10 at the National Press Club in Washington, D.C.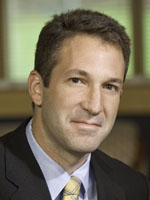 Feldman, director of Tulane's Sports Law Program and the university's associate provost for NCAA compliance, discussed ongoing issues involving amateurism and the use of college athletes' names and images.
Read his white paper proposing some kinds of non-game-related payments.
Feldman has been frequently called on to explain and interpret litigation raising antitrust and other issues surrounding whether college athletes should receive a share of the revenue generated when their games are broadcast on television or their images are used in video games.